トップ>鉛筆>ぺんてる ブラックポリマー999 Pentel Black Polymer 999 CB100

 進化しようのない鉛筆にあって、従来と組成が異なるポリマー芯を採用、シャーペンが普及した1987年に敢えて発売された鉛筆が今回のブラックポリマー999です。
Wooden pencils seem to be able to evolution no longer, but this black pencil has a polymer-lead which composition differs from traditional black-leads. In 1987, it dared to launch out to market where mechanical pencils popularized. That pencil is the "BLACK POLYMER 999".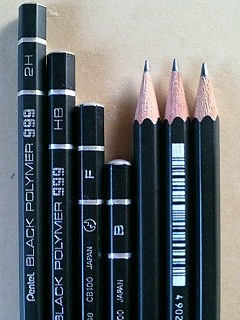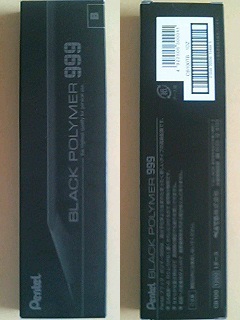 1ダース1200円税別(一本100円)、紙箱入り
大きさφ7.8×177mm 六角軸、封蝋あり
芯硬度:2H-4B(Fなし)
銘は銀文字
"[Pentelロゴ] BLACK POLYMER 999 [芯硬度]"
"the highest quality for general use CB100 JAPAN [JISマーク、1998年4月以降なし] [芯硬度]"
現在はバーコードつき
a dozen in carton box, 1,200 JPY without tax
dim. ø7.8 mm ×177 mm, hexagonal barrel with crown / sealing
hardness grade range : 2H - 4B (not available F)
silver printed letters
"[Pentel logo] BLACK POLYMER 999 [hardness grade]"
"the highest quality for general use CB100 JAPAN [JIS mark, disused since Apr. 1998] [hardness grade]"
with bar-code currently

 この鉛筆の特長はポリマー芯(樹脂芯)を採用したところにあります。
 従来の鉛筆芯は黒鉛と粘土を混ぜて焼き上げた粘土芯で、細くすると脆くなるため、1960年、粘土に代えて高分子化合物を混ぜたポリマー芯が大日本文具(現ぺんてる)で開発され、シャーペン普及に大きく寄与します。
 書き減りしにくく粘土芯以上の強度を持つポリマー芯を採用した点において、ブラックポリマーは三菱ユニやトンボモノを凌ぐ革新的な製品だったのです。
A characteristic advantage of the pencil is a polymer-lead (Carbon Graphite lead).
Traditional black-leads are ceramic leads ; made of graphite and clay, mixed them then baked them. It tend to break when fine down the lead diameter.
Hence, in 1960, Dai Nihon Bungu co., ltd. (present Pentel) invented the polymer-lead what made of graphite and polymer as synthetic resin instead of clay.
The polymer-lead has advantages as break less, wear less than ceramic leads. Its advantages contributed to highly fine lead mechanical pencils popularization.
Therefore the polymer-lead caused the Black Polymer 999 to progress, to surpass the Mitsu-bishi Uni pencil and Tombow Mono pencil (Mono professional).
 現在、鉛筆を製造販売している会社の多くは鉛筆会社として創業しましたが、ぺんてるは例外、その点でもこの鉛筆は異色ですね。
Most of pencil manufacturers were established as pencil manufacturer, but Pentel was not so. There the pencil is unusual also.
 999の芯はさらさらするするとして日本製にしては乾いた感触があり、これと似た感触を持つ鉛筆はカランダッシュ テクノグラフ777くらいでしょう。
しかし、色は舶来品より濃く、脂性の日本製は苦手だけれど色が薄い舶来品では不満ある者に合う鉛筆です。
The writing experience of the 999's polymer-lead is glass smooth, and dry for japanese pencils ; japanese pencils are smooth, but fatty.
Although I feel the writing experience similar to Caran d'Ache Technograph 777, the polymer-lead of 999 has a tint deeper.
One could prefer it if one satisfies with neither fatty japanese pencils nor thin tint oversea pencils.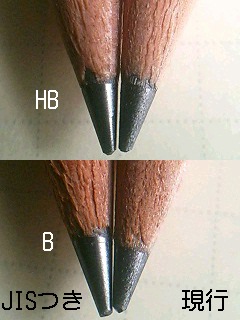 画像はどちらも同じ鉛筆削りで削った999/HBとB、現行品の見た目は多孔質になり、芯径も僅かに細くなっています。
ぺんてるは仕様変更していないと言いますが……
In a picture, each HB and B, with JIS mark and without the mark, four 999s are sharpened by a same pencil sharpener.
Without mark's current leads seem to be porous, narrowing slightly, while Pentel said they had not modification...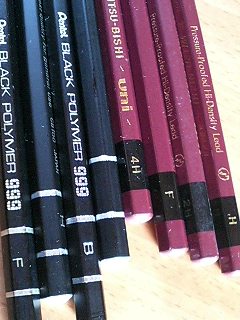 芯硬度標示は二面にしかなく、その不便さは三面ある鉛筆と比べると際立ちます。
芯硬度を使い分けるデッサンには不利であり、硬度範囲の狭さや高い芯強度と併せて、筆圧が高くなりがちな学習/事務用途の性格が強いですね。
しかしそれが描画に適さないわけではないことに留意されたく思います。
Its disadvantage is explained by a comparing to hardness indicators between the pencil (on two faces) and Mitsu-bishi Uni pencil (on three faces) on the pencil drawing, because it to turn and turn about the hardness of pencils.
I guess that the pencil has a character for school and office use, due to a high intensity lead, hardness grade range narrower than the others.
Though it has such a disadvantage and such a character, I hope you would not that regard the pencil unfit for the pencil drawing.


---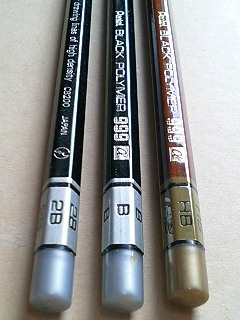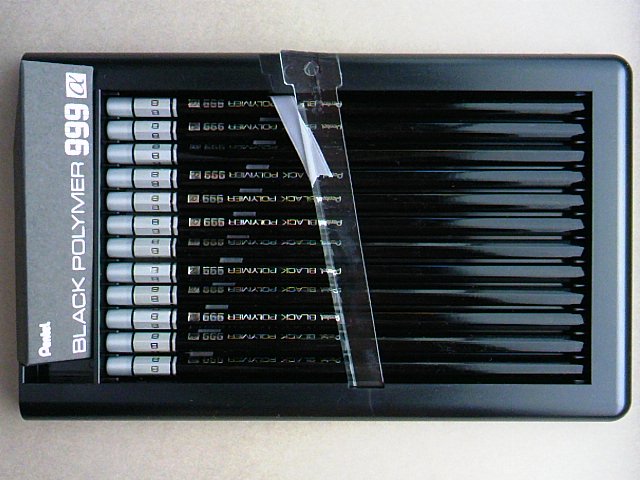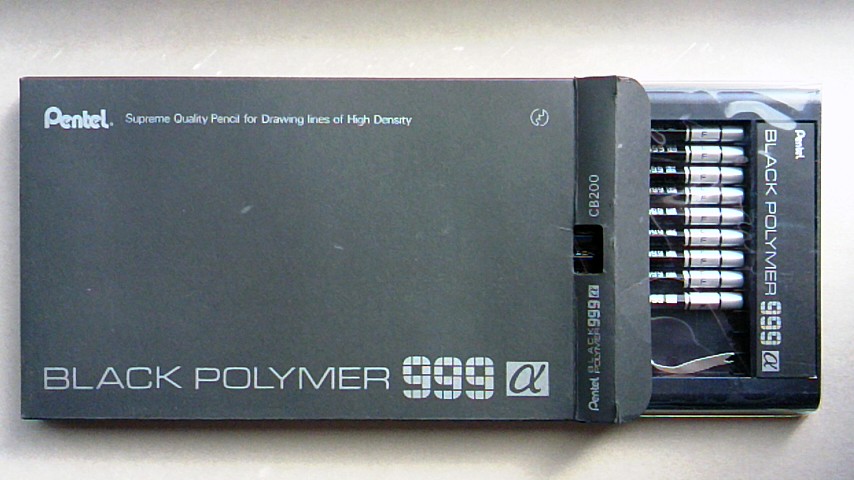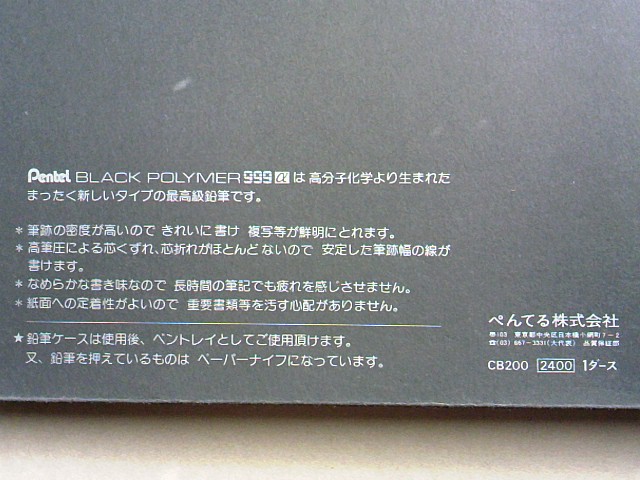 画像は同時発売された上級品の999α。
つや消し塗装の999と違って光沢ある塗装で、芯質はぬらりとした感触でした。
The upper-grade 999 alpha has a polymer-lead smoother than 999's and a gloss lacquer finished wood case.

 象徴的にも999は、高度経済成長期の始まりに開発されたポリマー芯を採用してバブル経済期に登場しました。
その価格はユニ/モノ(90円80円)を超える100円、上級品999αはハイユニ/モノ100 (140円120円)を超える200円であり、これは当時の舶来鉛筆(120から130円ほど)をも上回る価格でした。
 しかし999αは2000年に製造中止、999自体も3HやFが製造中止となり、Wikipediaでは同社の代表的製品に数えられていないなど不遇な鉛筆ですが、この999をマークシート用と銘打って売り出したところ売上が倍増、基本的には優秀であることを、そして、ポリマー芯はマークシートに不適という、シャーペン使用を禁じる大学受験のおかげで流布した説が誤解だったことを証明したのでした。
Symbolically, the woodcased 999 appeared in the bubble economy term in Japan (1987 - 1991), therein adopted technology was what the company developed the polymer-lead in the rapid economic growth term (1955 - 1973).
The price was also progressive as 100 JPY above the Mitsu-bishi Uni pencil and Tombow Mono pencil of 80 JPY.
The upper-grade 999 alpha was 200 JPY above the Mitsu-bishi Hi-Uni pencil and Tombow Mono 100 pencil of 120 JPY, which surpassed oversea pencils also.

That was misfortune, in the around 2000, 999 alpha was discontinued, 3H and F of 999 were discontinued also. The pencil is not appears on even Wikipedia of the company.
But someone told that had doubled the profit from the polymer-lead pencil since produced a 999 variant for the OMR (Optical Mark Reader) / mark-sens in 1989, that was Mark Sheet pencil CBM10.
It redresses a misunderstood which the polymer-lead does not respond to the OMR, that is spread due to the National-Centre-for-University-Admissions forbidding the mechanical pencils using polymer-leads.
Thus the pencil had proven a excellent product in effect.
※今回の記事はぺんてるの協力を仰ぎました。ありがとうございました。
* I refer to the Pentel when write the post for the pencil, thanks a lot.
※2009年製造中止
* discontinued in 2009

関連記事related posts
三菱鉛筆ユニ
トンボ鉛筆モノ